A Creative Digital Agency
Business Innovation That Makes Your Brand Sing.
See Our Services
Take The Guesswork Out Of Growth.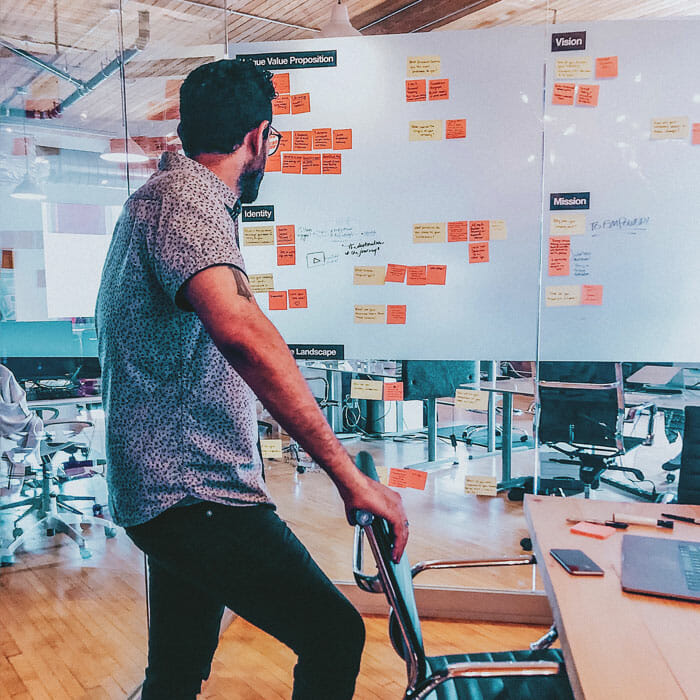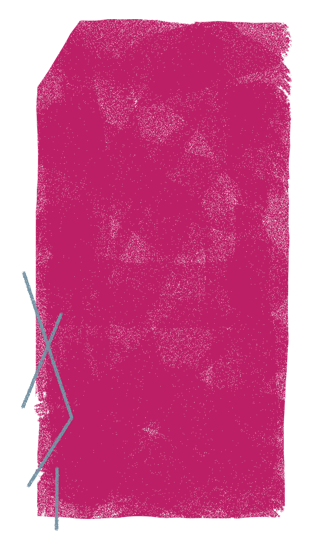 PUTTING YOUR BRAND IN THE SPOTLIGHT
We've spent decades future-proofing our clients' businesses and giving their brands the platform required to grab hold of their industries by the horns. This experience taught us that data trumps conjecture, and that a clear line of sight to your customers' desires and actions is what's needed to build a brand that's worth your audience's time, attention and affection. As a result, we've helped build brand experiences that lead our clients to succeed in big ways – and hey, we've done pretty well ourselves.
Explore Research & Strategy
What We Do
Our Business Innovation Framework
Truly effective business innovation (BI) is achieved when everything you do is inspired by data. The technology we build is based on actual end-user needs and behaviour. Our insights guide our creative decisions, personalizing the approach and pulling on specific heartstrings. The marketing initiatives we develop are tailored and targeted to well-defined audiences. Think of our multidisciplinary team of creative, technology and marketing professionals as your problem solvers working in concert to achieve your goals.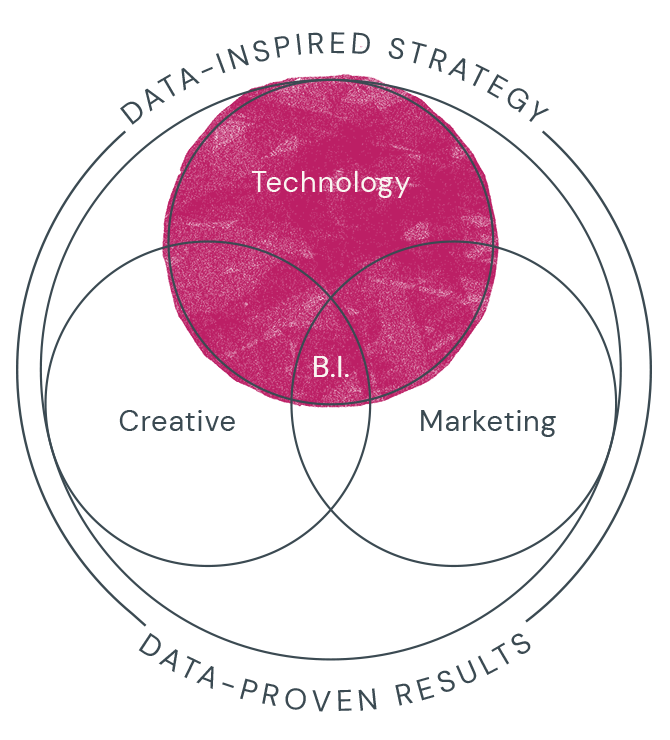 Technology
We don't just understand the technology, we were raised on it. With tech embedded in all that we do, we've honed our skills in developing future-friendly solutions that deliver what's needed now and provide a building block for what's next. From market-leading websites and apps, to e-commerce and cloud computing infrastructures, we're ready to guide you through your digital transformation.
Let's Build Something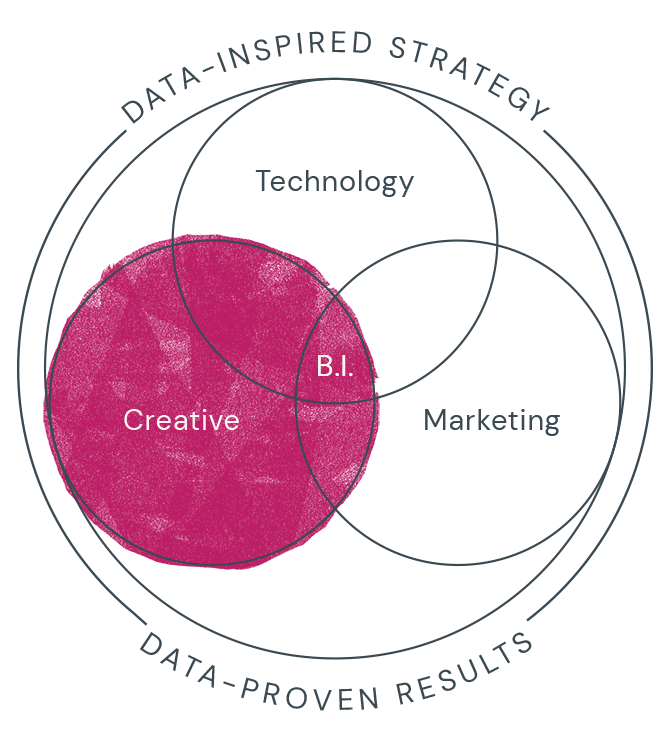 Creative
Creativity is a powerful instrument, but without a clear purpose behind what you're crafting, it'll fall flat with your audience. That's why we take the time to understand you and your audience before we get creative. We take a data-inspired approach to all of the creative we produce – whether to inform the user experience and interface of an app, the video we create for a website's landing page or the posts we create for an effective social media presence.
Let's Get Creative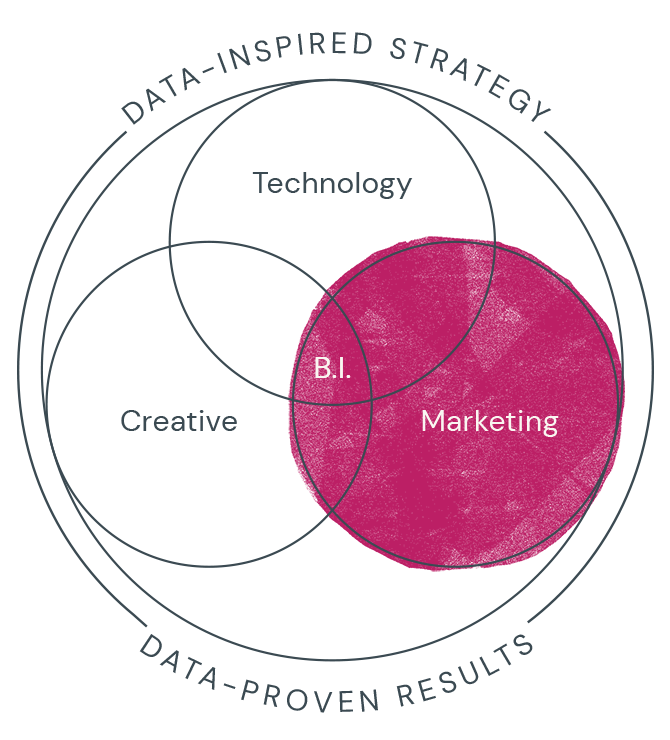 Marketing
Taking a digital-first approach to marketing proves that acting on information rather than impulse is what's necessary to drive people to act. We've worked tirelessly to build partnerships with leaders in the digital space—Amazon, Facebook and Google to name a few. This means we have access to the insights we need to make informed decisions with your marketing budget, online and off.
Let's Master the Market
Promises to Our Clients
01

Data-Inspired, In-House Expertise

We mitigate your risk through a deep understanding of your industry, combined with audience data and two decades of expertise in our fields under a single roof. If we don't see data that proves it will work, expect us to tell you.

02

Synergistic Solutions That Create Value

We create and deploy exceptionally well crafted future-friendly solutions. These can generate revenue or reduce expenses while working in unison across the countless online platforms and offline ecosystems.

03

Urgent, Agile & Always On

We do everything possible to meet your timelines and never "set and forget". We are diligent in detecting changes in your market and nimble enough to respond to them in real-time.

04

Measurable Results & Meaningful Reporting

We measure what matters to your bottom line and provide clear, insightful reporting with operational intelligence that doesn't require translation.
See Some of Our Showstoppers
Industry Experience
We've been deeply ingrained in key industries beyond the walls of our agency, and therefore bring an intimate understanding of the relevant nuances and challenges that apply to each. Click on an icon to learn more about our experience in our industries of focus, covering B2B and B2C:
Cannabis
Finance
& Fintech
Health Care
Health & Wellness
Hospitality
& Entertainment
Multi-Location
& Franchise
Professional Services
Real Estate
& Property
KEY CHANNEL PARTNERSHIPS
Our tools and relationships with channel partners give us vital access to meaningful data. The unique processes we've built enable us to leverage these sources to derive actionable insights about your market and audience.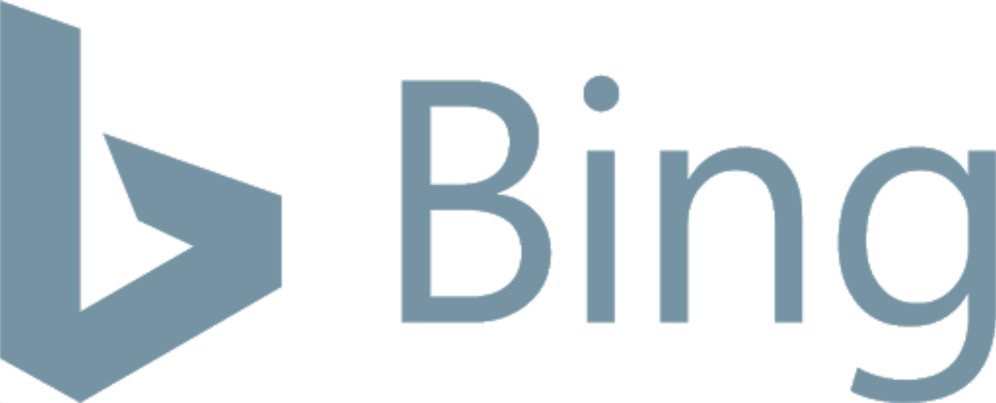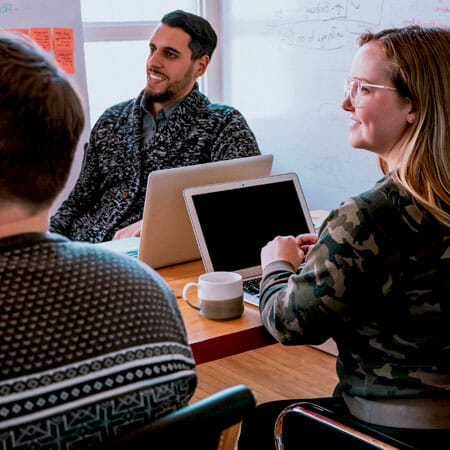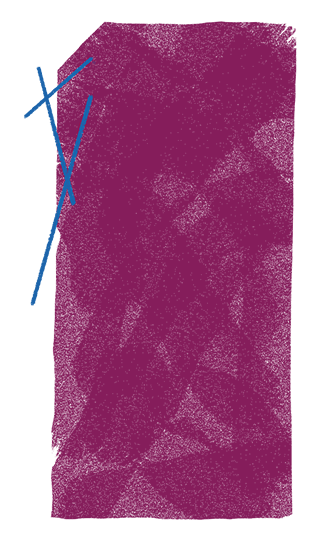 We Work Smart &
Play Hard.